Course Overview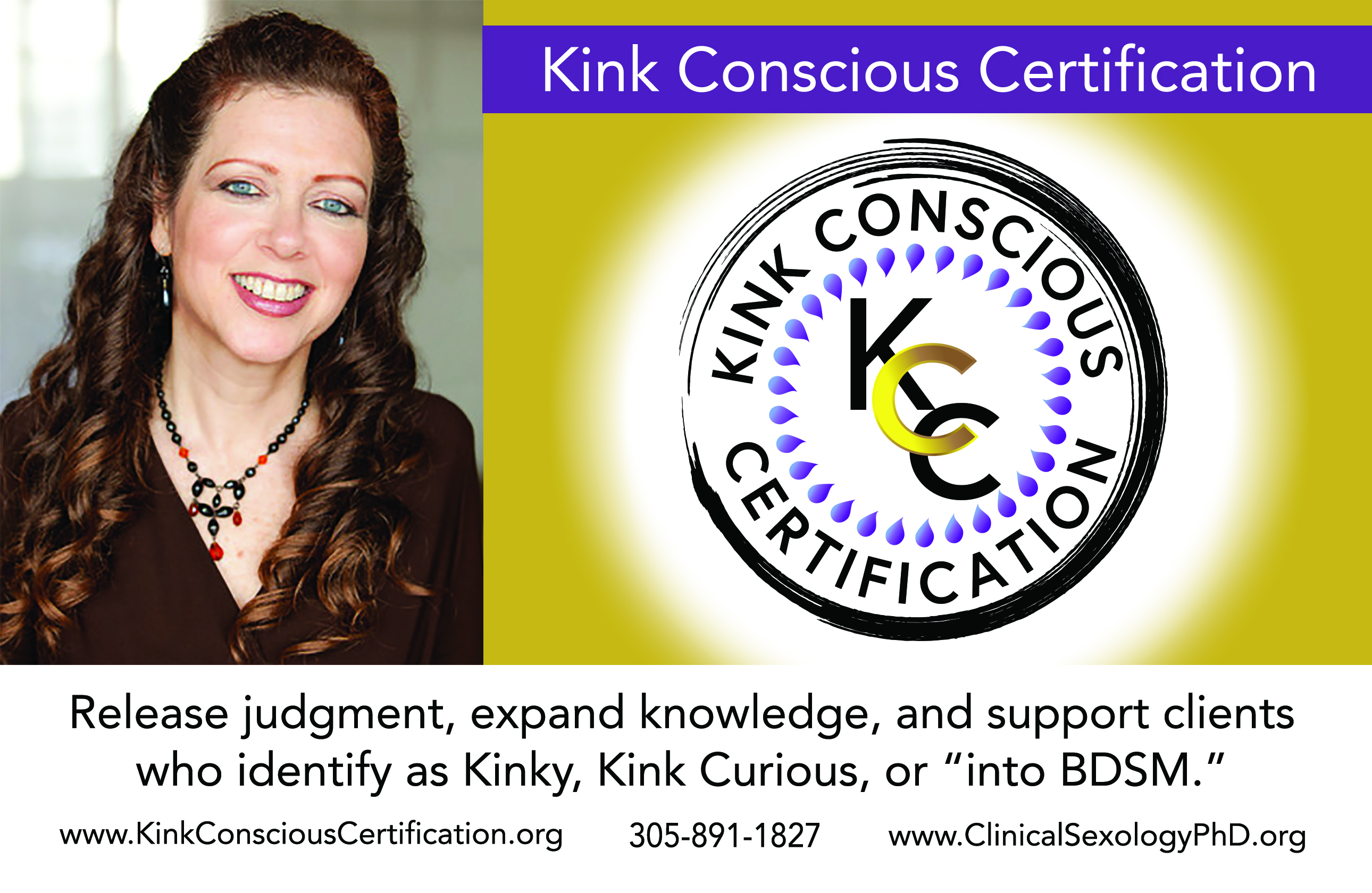 Release judgment, expand knowledge, and support clients who identify as Kinky or "into BDSM." In this course you will engage in an overview of the similarities and differences between the most common range of alternative sexualities as they relate to Kink/BDSM, and the most effective modalities to utilize with Kink/BDSM identified clients who seek assistance from your clinical, medical, or therapeutic practice.
VIDEO - THE REV MEL SHOW INTERVIEWS FRANCESCA GENTILLE
What is Transformational BDSM versus Regular BDSM? How can BDSM be used to support wholeness?
Join Francesca Gentille as she is interviewed by Rev Mel. Be present to a journey of Sacred Kink that
catalyzes a whole new awareness.


Why receive a KINK CONSCIOUS CERTIFICATION?
Kink, BDSM and other alternative lifestyles are areas unfamiliar to most therapists, even sex therapists. In order for therapists to promote themselves as "Kink Friendly," "Kink Aware," or "Kink Knowledgeable," they must have extensive training in all things kinky – in other words, be comprehensively "Kink Conscious."
This program incorporates in-person and webinar training. The experiential portion of the program will not only educate and expose the student to alternative lifestyles, it will allow the student to participate to varying extents in some of the activities that will gain the student entry into this diverse and exciting world.
The first 5 days of classes will be in person in San Francisco and the following 8 classes will be held on alternate weeks via webinar.
Please review the course descriptions in the catalogue. This program may be taken towards the doctoral degree or on its own for certification from the Therapist Certification Association.
The FIRST ​5 Days take place live & in person in San Francisca
w​ith Demos, case studies, and practicums. ​
(And there's some great flights out there if you're coming from out side of CA)
The remaining hours occur via Webinar where ever you live! ​
2019 - 2020 Schedule

SESSION 1: Registration Closed.
5 Day Lecture & Practicum in San Francisco : August 14 - 18
Remaining Classes September 2019 - January 2020 are held via live webinar.
SESSION 2: Now open for registration
5 Day Lecture & Practicum in San Francisco August 28-September 1, 2019
Remaining Classes October 2019 - February 2020 are held via live webinar.
LIST OF COURSE TOPICS ARE THE SAME IN EACH SESSION:
Analysis & Assessment of BDSM in Culture
History and Science of BDSM ( live webinar)
Sociological Framework of Kink Communities (live webinar)
Treatment of Sexual Differentiation within Couples (live webinar)
Gender, Sexual Attraction, and Relationship Design (live webinar)
Review of Research on Kink/BDSM (live webinar)
Contemporary Analysis of BDSM in Media (live webinar)
Intersectionality Between Kink/BDSM and Trauma (live webinar)
COURSE CONSISTS OF:
Evaluation
70 Class Hours
10 Hours of Supervision/Case Consultation
Independent reading and other assignments
Student Survey, Supervision, Class Participation